The 

UN Human Rights Committee

, which oversees compliance with the International Covenant on Civil and Political rights (ICCPR) recently concluded its 

113th Session

, adopting, among others, its concluding observations regarding the situation of civil and political rights in the Russian Federation.

In paragraph 24, the Committee expresses its concern at "
insufficient measures being taken to respect and protect the rights of indigenous peoples and to ensure that members of such peoples are recognized as such.
" The lack of recognition particularly concens the situation of the Izhma Komi or Izvatas, who are denied recognition as indigenous peoples, exluding them from decision-making over their territories, which are ever more devastated by oil exploration and extraction.
The below article by Shor activist Vladislav Tannagashev was originally published in Russian in late October 2014. In the meantime, the situation he describes has further deteriorated. The Shor village of Kazas has been entirely demolished, which just one roof left standing. Villagers have lost their property and not received any suitable resettlement land, some are reported homeless. Their sacred mountain, the Karagai-Nash no longer exists, it was removed by the excavators. More background information on this case is available from an IWGIA Briefing Note on coal mining in the Kuzbass region as well as from IWGIA Human Rights Report 18 on indigenous peoples in Russia.
The Evenks of Zeya district might be soon left without their hunting grounds, where they have lived and hunted for many generations. As reported by "Amur.info", the lease of the indigenous obshchina (community-based cooperative) "Yukte" expired in November 2014, meaning that in order to continue they would have to pay six and a half million roubles (more than 105,000 US Dollars) for their hunting grounds, money which they don't have. Earlier this year, the Deputy Chair of the regional Association of indigenous peoples Elena Kolesova met with the vice chair of the regional government Vladislav Bakumenko, who, however, failed to offer any remedies.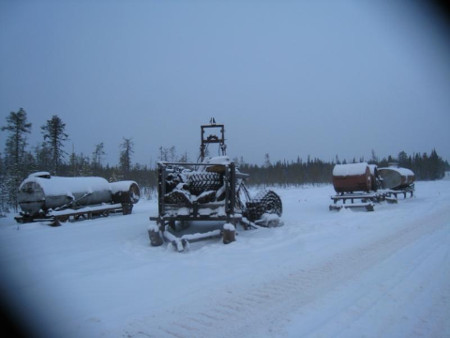 Residents of Krasnobor, a village locate in the heartland of the indigenous Iz'vatas Komi people, who have for almost a year been protesting the misconduct of the oil producer LUKoil Komi, have recently alerted the Committee to Save the Pechora. They reported of seismic exploration works going on in the direct vicinity of the village. Therefore, the Committee's chair Fyodor Terentyev and residents of Krasnobor undertook a visual inspection of the winter road and the base camp of the seismic crew near the village. They took photos and recorded the GPS coordinates of the places where exploration had been undertaken of the base of the seismic crew.