The Indigenous World 2023: Indigenous Peoples' human rights and conservation
IWGIA is proud to have launched The Indigenous World 2023 on 17 April at the 22nd session of the United Nations Permanent Forum on Indigenous Issues in New York.
"I want to say that one of the most encouraging things I think, for me, in this book is to read every year about the continued struggle, and how indigenous peoples insist and keep insisting on their rights. To read about the courage and the effort, the movement, the standing together to fight for their rights, which are captured and described in this book, despite the difficult circumstances that many Indigenous Peoples face." Kathrin Wessendorf, IWGIA Executive Director, said.
IWGIA, alongside co-organiser the Permanent Mission of Denmark to the United Nations, hosted a side event entitled – Indigenous Peoples, their rights and conservation: Ensuring territorial health – as part of the book launch with a panel of distinguished Indigenous and non-indigenous guests and experts.
"Like the Permanent Forum itself, this handbook [The Indigenous World] is a goldmine of information. You want to know how rights of Indigenous Peoples are being progressed in Canada – you
can go find your Canadian First Nations and Inuit colleagues in the Permanent Forum or you can go to page 511. Now, I recommend you do both. But first go to page 511," Martin Bille Hermann, Ambassador and Permanent Representative of Denmark to the United Nations, said in opening remarks.
"Secondly, like the Permanent Forum, it gives a voice to Indigenous people from all over the world who have contributed to the report. And this is about, in our view, about being seen and being heard. The handbook, the report, does that in very concrete terms. Third, like the Permanent Forum, The Indigenous World 2023 holds governments accountable. It simply has a disciplinary effect. To be monitored, whether it's through interventions in the Permanent Forum, or through a report like this, where your every move as the government is being recorded, being published and being disseminated. Like the Permanent Forum, this report makes us wiser."
In his opening remarks, UN Special Rapporteur on the Rights of Indigenous Peoples Francisco Calí Tzay also spoke about the importance of the book:
"This is quite an extensive reference book. I believe that any organization that wants to have reference material and wants to learn about the situation of Indigenous Peoples in the world, has to have an Indigenous World in their backpack. To carry it in your backpack, knapsack, in your bag, any place you want, but you need this reference book in order to learn about the rights of Indigenous people and the essential role that they've played; particularly women and youth."
Apart from speaking on the importance of The Indigenous World as a key document in reporting on the situation of Indigenous Peoples every year, the panellists also highlighted the various human rights issues Indigenous Peoples worldwide are facing, and have faced for decades, when it comes to conservation.
>> Watch the launch event here
Indigenous Peoples' role in conservation and the protection of biodiversity
Conservation is increasingly becoming an issue at the forefront of many different global discussions today and thus is also the editorial focus of the 37th edition of The Indigenous World.
"Now, Indigenous people, [their] knowledge, land tenure systems, and sustainable management of resources, play a key role in managing the risks and impacts of climate change, protecting biodiversity and achieving sustainable development. And in many ways, it is a sad paradox that Indigenous Peoples are being displaced from their territories in the very name of conservation and protection from nature. We are deeply concerned about the alarming violations of the rights of Indigenous Peoples in protected nature areas, where what you might call sort of an exclusionary approach to protecting biodiversity, not only risks worsening our planetary crisis, but also has led to forced evictions, violence and killings of indigenous human rights defenders," Ambassador Hermann said.
Currently, 15% of the world's surface is made of protected areas and that number is expected to double by 2030. While there is work being done to adopt conservation measures that respect the human rights of Indigenous Peoples, considerable implementation gaps remain, and conservation measures have caused and continue to cause human rights violations of Indigenous Peoples worldwide.
Indigenous Peoples' lands and territories constitute at least 28% of the global land surface including unique ecosystems and vital biodiversity.
Over the years, Indigenous Peoples have consistently emphasised that conservation should be regarded as their responsibility as their land management practices have repeatedly been found to be some of the best strategies for biodiversity conservation.
However, for too long, the important voices of Indigenous Peoples have not been heard and their land, territory and resource rights have been ignored at international forums where vital decisions are taken regarding the future of our planet.
In recent years, this has started to change and Indigenous Peoples have achieved increasing recognition for the crucial role they play in ensuring the sustainable use and management of their land, territories and resources. In fact, an emerging consensus recognises that respecting Indigenous Peoples' rights is one of the most effective means in the fight against climate change.
Despite this, Indigenous Peoples' rights continue to be violated in global climate action.
"I hope everybody will now use the great yearbook that IWGIA produces to really understand the detail of what has been achieved, because now we are entering into a battle of interpretation. There are those who want to minimize what was achieved, and those who are very aware that there are still many imperfections, or gaps, in what was achieved; especially in regard to the CBD [Convention on Biological Diversity]. But the active transformative agents are ourselves, as activists, as the change makers, and any success is really up to us, to make use of what is available globally in the standards, and what we can actually do on the ground." Joji Cariño, Senior Policy Advisor, Forest Peoples Programme, said.
How conservation manifests in the Indigenous reality
One of the best methods for environmental protection is to recognise Indigenous Peoples' rights to territory, self-determination, legal representation and cultural freedom.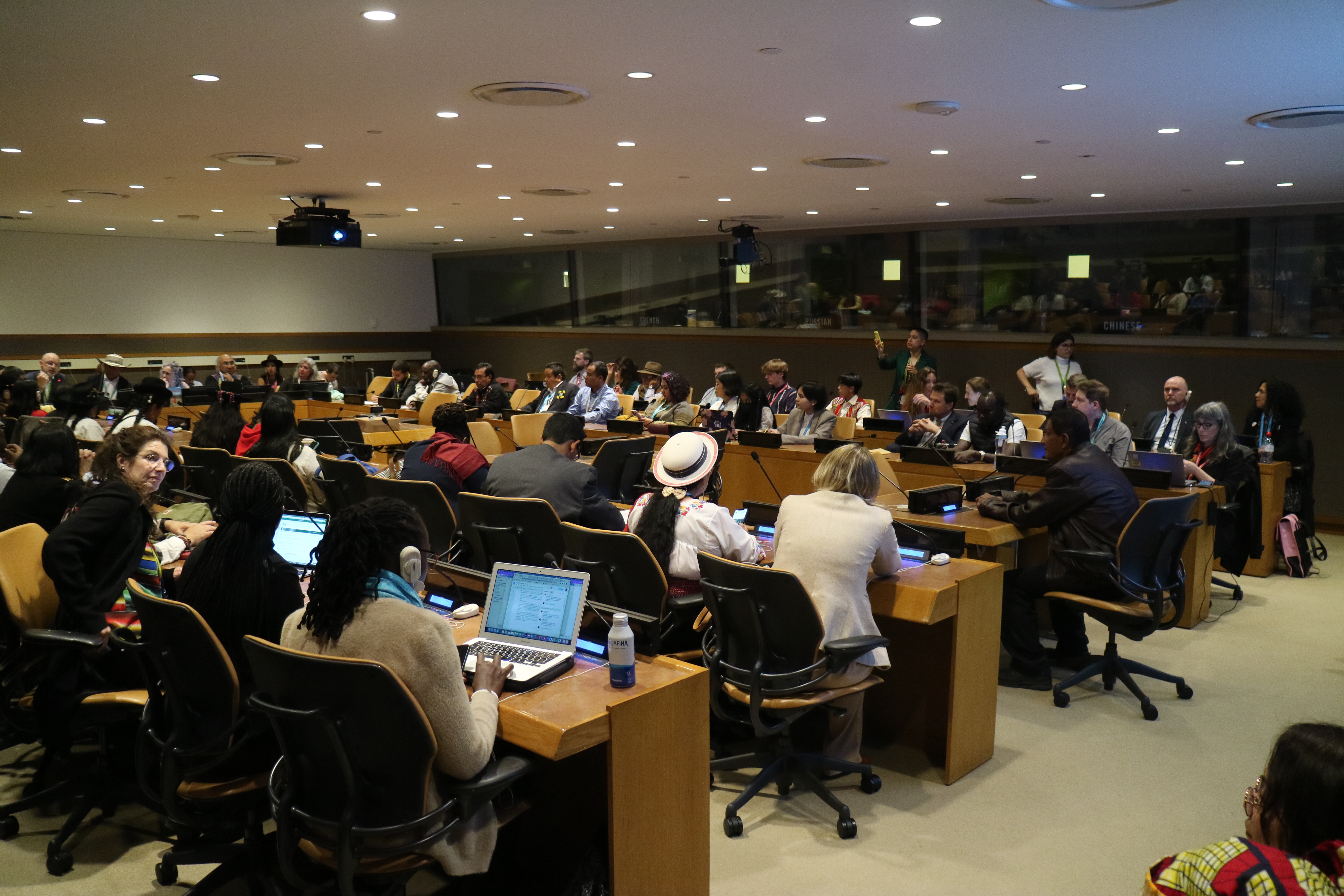 "We are not just protecting our territory. We are not just protecting our biodiversity. We are not just protecting our Mother Earth. We are protecting all human beings. That is why it is not fair. If all of the responsibility is really put on Indigenous Peoples; no way. It has to be on all human beings. There's too much for us [Indigenous Peoples]. We are not being recognized. We are criminalized for protecting Mother Earth and now suddenly they say okay, 'you do all the work and I will continue to kill the Mother Earth,' Rukka Sambolinggi, Secretary General, AMAN (The Indigenous Peoples' Alliance of the Archipelago), said.
One main tenet of conservationists is that preservation, alongside close regulations and restrictions, can best be achieved when people are removed from the protected areas, meaning that Indigenous Peoples are often forcibly evicted.
This becomes increasingly dangerous for Indigenous Peoples as more countries move to conserve the remaining planet's biodiversity by creating more protected areas, disregarding their rights to land, territories and resources and often without their free, prior and informed consent.
In too many cases this is demonstrated by state-owned and controlled conservation or protected areas often employing the outdated tactic of fortress conservation, a model where people are not allowed inside such areas. This conservation model gives governments the impetus to demarcate areas as conservation areas and evict people, often Indigenous, at will. When this happens, it is often done violently, without notice, without the involvement of those being evicted, and without any plans to rehabilitate and rehouse the displaced.
This is a very damaging misunderstanding of what conservation can be.
"One other very serious issue with regard to conservation in my country [Tanzania], and probably in many of the other countries, is that it is not about conservation. It is about business. It is very unfortunate that the global north believes that the governments are doing what they're doing because of conservation. They're not doing it for conservation. They're doing it for tourism. They're doing it for hunting. They're doing it for hotels. They are removing the people to get land for business. So, we cannot differentiate in my country between business and conservation. Conservation has become a business and it has become a way of evicting the people from their land," Edward Porokwa, Executive Director, PINGOs Forum, said.
As we report in the Indigenous World 2023, this is still the way conservation is viewed and practised in Tanzania, as well as in countries such as Bangladesh, Cameroon, Chile, India, Nepal, Thailand, Tunisia and Uganda, to name but a few.
Indigenous women
Many of the articles in The Indigenous World also report on the particular situation of Indigenous women and girls.
Indigenous women play crucial roles in their communities as breadwinners, caretakers, knowledge keepers, leaders and human rights defenders.
After nearly 20 years of collective actions and advocacy, the Indigenous women's movement succeeded in getting the Convention on the Elimination of all Forms of Discrimination Against Women (CEDAW) to develop a specific recommendation on Indigenous women and girls, which was adopted on 26 October as General Recommendation 39.
The recommendation promotes the voices of Indigenous women and girls as agents of change and leaders both inside and outside their communities and addresses the different forms of intersectional discrimination frequently committed by State and non-State actors. It also recognises Indigenous women's key role as leaders, knowledge holders and transformers of culture.
The adoption of the recommendation is not only important for the explicit protection it guarantees Indigenous women and girls worldwide but is also a significant and inspiring example of what collective and concerted efforts by a large, dedicated group can achieve in the face of seemingly endless obstacles.
Because while Indigenous woman have made such a significant advance, the reality remains that they are massively under-represented, disproportionately negatively affected by the decisions made on their behalf without their valuable input, and all too frequently the victims of violence and sexual assault.
Violence against Indigenous women and girls occurs in contexts such as during armed conflicts and militarization of their territories, during the implementation of development, investment and extractive projects, and while exercising the defence of their human rights. In some cases, this form of violence is politically motivated.
In several countries noted in the upcoming edition of The Indigenous World, such as Bangladesh, India, Myanmar, Nepal, Kenya, the Philippines and Thailand, the militarization of and conflict over Indigenous land has led to gang-rape, sexual enslavement and killing of Indigenous women and girls. In these contexts they are also particularly vulnerable to forced labour and trafficking.
The 56 regional and country reports and 17 reports on international processes and initiatives covered in this edition underscore these trends related to conservation and gender, among others.
About The Indigenous World
The Indigenous World is the unique result of a collaborative effort between Indigenous and non-Indigenous activists and scholars who voluntarily document and report on the situation of Indigenous Peoples' rights. We thank them and celebrate the bonds and sense of community that result from the close cooperation needed to make this one-of-a kind documentation tool available.
For 37 consecutive years IWGIA has published The Indigenous World in collaboration with this community of authors. This yearly overview serves to document and report on the developments Indigenous Peoples have experienced throughout the year.
IWGIA publishes The Indigenous World with the intent that it is used as a documentation tool and an inspiration to promote, protect and defend the rights of Indigenous Peoples, their struggles, worldviews and resilience.
>> Find The Indigenous World 2023 and all other editions here
>> Also available in Spanish as El Mundo Indígena here
Top photo: Launch of The Indigenous World 2023 at the UN Permanent Forum on Indigenous Issues in New York, 17 April 2023. From left: Martin Bille Hermann, Ambassador and Permanent Representative of Denmark to the United Nations; Lola García-Alix, IWGIA Senior Advisor on Global Governance; José Francisco Calí Tzay, UN Special Rapporteur on the Rights of Indigenous Peoples; Kathrin Wessendorf, IWGIA Executive Director.
Photo on right: Launch of The Indigenous World 2023 at the UN Permanent Forum on Indigenous Issues in New York, 17 April 2023.
Tags: Global governance, IWGIA, IWGIA Report