With almost 40 percent of the land designated as protected areas, Tanzania is one of the countries with major tourism revenues in Africa. In the northeast, the Ngorongoro district is the home of the well-known tourist attraction the Ngorongoro Crater and the bordering Serengeti National Park.
The Ngorongoro Conservation Area receives alone around 30 million US dollars a year from tourism. Still, one-third of the population, including indigenous communities, live in poverty.
On May 12, 20 civil society organizations issued a joint declaration requesting the government of Tanzania to take action and make sure that the rights of the pastoralists in Loliondo are respected.
The concern of Tanzanian civil society has been raised after the report of a range of new cases of human rights violations, involving extrajudicial detentions, intimidations and mistreatment of local pastoralist from Loliondo in Ngorongoro District in northern Tanzania.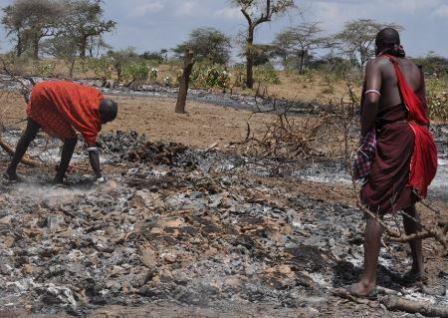 The EU Parliament passed a resolution strongly condemning the practice of land grabbing in Tanzania on Thursday (March 12). They released a press release stating that members of the Parliament (MEPs) strongly condemn the "illegal displacement of local rural communities, the destruction of their villages and traditional way of life, and the violation of their basic human rights."
A member of the Ujamaa Community Resource Team (UCRT) has been awarded with the 2016 Goldman Environmental Prize for Africa, the world's largest award honoring grassroots environmental activists, the UCRT writes yesterday in a press release.  
IWGIA recently published a briefing note calling for urgent action to halt the deadly violence targeting Maasai and Datoga citizens in Tanzania.

Maasai and Datoga citizens living in the Morogoro region of Tanzania were recently victims of deadly, ethnic violence. According to local media, the assaults were instigated by public figures interested in acquiring land, and state authorities have not intervened to protect Maasai citizens. Police protection has instead been given to others who are illegally cultivating officially registered Maasai land.
Edward Porokwa is a Maasai pastoralist and the Executive Director of the indigenous umbrella organisation, PINGOs Forum in Tanzania. He is in Bonn to lobby his government and get them to listen to the voices of indigenous peoples in both local and global Climate Change negotiations.
Below is an interview conducted by Cæcilie Mikkelsen of IWGIA, about climate change in Tanzania and how it is affecting the indigenous population.