What is REDD? A Guide for Indigenous Communities - 2nd Edition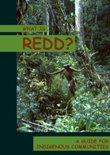 Publisher:
AIPP, FPP, IWGIA & Tebtebba
Author:
Eleonor Baldo-Soriano, Joan Carling, Raymond de Chavez, Christian Erni, Helen Tugendhat
Number of pages:
112
ISBN number:
978-87-91563-66-9
Publication language:
English
Financially supported by:
The Norwegian Agency for Development Cooperation (NORAD) and Evangelischer Entwicklungsdienst (the EED), Germany
Release year:
2010
This book provides information material on REDD (Reducing Emissions from Deforestation and Forest Degradation in developing countries), one of the mitigation measures now promoted for combating climate change, and its implications for indigenous peoples. It is intended primarily for indigenous peoples as a guide in understanding climate change, REDD and how they relate to the recognition and exercise of the collective rights of indigenous peoples. The content is easily accessible and is accompanied by illustrations and photos for visualization. Translated versions of this guidebook in several languages are also being published in REDD countries in Asia. Contents: Introduction and Part I: Climate Change Introduction to the book and a short introduction to climate change - its causes and how it affects indigenous peoples, with some information on climate change negotiations and mitigation measures. Part II: REDD An introduction to REDD, how it works, how it is funded and how it impacts on indigenous peoples. Part III: The UNDRIP and What Indigenous Communities Can Do An introduction to the UN Declaration on the Rights of Indigenous Peoples and how indigenous people can use it in relation to REDD programmes. Appendices A checklist to help indigenous communities dealing with REDD programmes, links to further information, and a glossary of technical terms and acronyms.
Download publication