Indigenous Autonomy in Mexico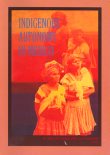 Number of pages:
196
ISBN number:
87-90730-19-4
ISSN number:
0105-4503
Publication language:
English
Country publication is about:
Mexico, México
Region publication is about:
Latin America, América Latina
Release year:
2000
Release month / day:
jun-00
This important collection of essays will be compulsory reading for all those who wish to have a better understanding of the dynamic processes of change which Mexico and its indigenous peoples have undergone at the end of the millennium. The book relates different experiences and makes various proposals relative to the issue of indigenous autonomy. Contributions to the process of construction of a national proposal on autonomy are related. International and constitutional aspects of autonomy are analysed. A feminine view is provided. Significant cases of local autonomy and the struggle of the indigenous peoples for their resources and environment in the face of a mistaken and badly planned government policy for infra-structural development are presented. Finally, the situation in Chiapas is dealt with before Aracely Burguete closes the book with an analytical chapter on the new ethnic conformation of the highlands of Chiapas and of San Cristóbal de las Casas as a contextual framework for the autonomous tendencies and indigenous empowerment of the region. The book makes a worthy contribution to the Mexican debate on indigenous autonomy.
Download publication