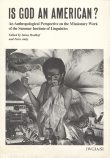 Publisher:
Survival International & IWGIA
Number of pages:
192
ISBN number:
87-980717-2-6
ISSN number:
0105-4503
Publication language:
English
Country publication is about:
Bolivia, Colombia, Ecuador, Mexico, México, Peru, Perú
Region publication is about:
Latin America, América Latina
Release year:
1981
Release month / day:
apr-81
The Wycliffe Bible Translators (WBT)/Summer Institute of Lin­guistics (SIL), one of the largest missionary enterprises in the world, aims to bring »the Word« to the »Bibleless tribes«. In pursuit of converts, SIL missionaries have profoundly affected indigenous societies throughout the world. SIL's method of proselytising and its relationships with host countries have provoked many questio...
Read more
Download publication