Atopo W+p+ village's fight against a power plant in French Guiana
BY PIERRE AUZERAU Y MELISSA SJABERE FOR DEBATES INDÍGENAS
On the edge of French territory, in north-western Guiana, the Indigenous Kali'na village of Atopo W+p+ is resisting to safeguard its territory against a power plant. In violation of Indigenous rights, the French state ceded part of their lands to HDF Energy company and mobilised a large number of armed gendarmes to carry out the project. The Kali'nas warriors maintain a strong opposition and are urging for the plant to be relocated.
A pungent smell fills the air. Slowly, the sun fades into an orange drape and ashes swirl in the sky. East of Atopo W+p+, an Indigenous Kali'na village located some fifteen kilometres from Saint-Laurent-du-Maroni, in the north-west of "French" Guiana, the cicada concert is no more. The screaming pihas have stopped screaming. Like other animals, the birds have fled the construction of the Western French Guiana Power Plant (Centrale Électrique de l'Ouest Guyanais, CEOG), the world's future largest hydrogen storage facility.
Over 20 hectares have already been ripped from the Kali'na's land, whose village is a 20-minute walk away. The verdant forest that existed a few weeks prior has now been transformed into a barren wasteland, with the earth dotted by the corpses of birds and lizards. A barricade of dead trees, resembling a beaver dam, encloses the area. It was erected by construction machinery piling up the last remnants of the forest to make way for the future power station. In the sky, the smoke thickens and the ash swirls more vigorously, carried by the wind that has risen.
Young Kali'na "warriors", as they call themselves, some under the age of 18, intentionally set fire to the few logs littering the ground to prevent any attempt to profit from their sale. They are taking advantage of a temporary halt in the work to inspect the site and witness, helplessly, the clearing of their land. "It's painful", observes a Kali'na warrior sadly, "because this land is like our second mother".
Kali'na warriors collect dead trees littering the site and burn them to prevent timber from their forest from being sold. Photo: Pierre Auzerau
France refuses to recognise Indigenous rights
Atopo W+p+ ("village of the hills" in Kali'na) is an Indigenous village that was established by a few Kali'na fleeing the civil war in Surinam some forty years ago. The village was founded on lands that historically belonged to Kali'na and other Indigenous Peoples before being seized and devastated by European invasions in the early 16th century. Today, 230 people live in this village, also known as Prospérité in French, situated north of the N1 road, linking Cayenne to Saint-Laurent-du-Maroni along the coastline. Among the Kali'na, one of Guiana's Indigenous Peoples, Atopo W+p+ stands out as the only village — according to inhabitants and outsiders — that has managed to resist concreting and where Kali'na continues to be the language of communication, even among young people.
For years, via the village association, members of the community have been working on a projet d'auto-suffisance, aiming to achieve full self-sustainability: a water tower drawing from a nearby spring and a bilingual primary school teaching in both Kali'na and French have been built; housing and food resources are mainly obtained from the land; and a chicken coop and manioc plantations further support the community. A bread oven was also in the pipeline, but the path towards self-sustainability has been severely hampered by the CEOG project, and residents now spend most of their time defending their lands.
The 140-hectare site where HDF Energy, a hydrogen power company, intends to construct CEOG was originally allocated by the Office National des Forêts (ONF), the government agency responsible for state-owned forests. Despite France's support for the United Nations Declaration on the Rights of Indigenous Peoples (UNDRIP) in 2007, the state persists in rejecting the recognition of their distinct rights, citing constitutional grounds. Based on the French Constitution (1958), France is an "indivisible" Republic which ensures "equality of all citizens before the law, without distinction of origin, race or religion" (Article 1).
When the 140-hectare plot, part of Atopo W+p+'s territory, was allocated to HDF Energy, the residents' right to Free, Prior and Informed Consent (FPIC) was ignored since the company was not legally required to consider areas beyond the one-kilometre radius surrounding the future CEOG project. Like 95% of Guianese land, Atopo W+p+'s territory is legally owned by the state, a reminder that Guiana was never decolonised, but rather departmentalised. That is, in 1946, it was assimilated into French territory and has since become a French overseas department-region (département-région d'outre-mer, DROM), now fully part of France and the European Union.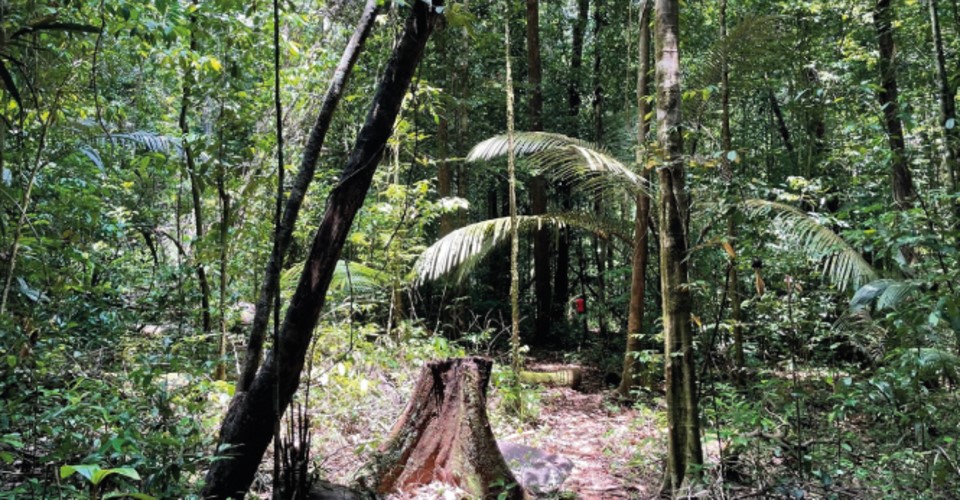 Atopo W+p+'s territory is located in a vast forest, once haunted, and rich in diverse flora and fauna. Photo: Pierre Auzerau
Deployment of gendarmerie
The residents of Atopo W+p+ repeatedly stress that they are not opposed to the future hydrogen power plant as such. They acknowledge that Guiana has a crying need to increase and diversify its electricity production, currently based on a polluting and ageing fleet. Indeed, the 290,000 residents of the DROM frequently experience power outages, hence the necessity for projects such as CEOG, which will eventually provide electricity to 10,000 households. While stressing the need for investment, the residents of Atopo W+p+ point out that they should have been consulted because CEOG is situated less than two kilometres from the village and encroaches on important hunting, fishing and bathing sites. Additionally, the area is home to earth beings important to the Kali'na, and clearing the site involves felling multiple trees that they consider "sacred".
Of the 140 hectares allocated by the ONF, 75 hectares must be cleared for HDF Energy's project. A first section of 16 hectares was already swallowed up by excavators during the winter of 2022-2023. One by one, trees were felled like twigs, despite the fierce resistance of Atopo W+p+'s Kali'na warriors who tried to physically obstruct the excavators. Their resolute opposition necessitated the intervention of law enforcement to break through. Gendarmerie units were deployed by the French state, resulting in clashes
Along with other residents, Roland Sjabere, Yopoto (Kali'na chief) of Atopo W+p+, was taken into custody at dawn on 24 October 2022 in his home in the village, deeply affecting the community. The confrontations persisted until early March 2023, at which point the confrontation escalated to the extent that work was ceased.
The forest floor is littered with the many tear gas grenades fired by the gendarmes. They are then collected by Kali'na to prevent them from polluting their lands. Photos: Pierre Auzerau
The Kali'na warriors' resistance
Despite a brief respite, operations resumed in earnest on 16 August 2023, resulting in a disastrous situation. Since then, the number of machines and gendarmes has been multiplied. Villagers report seeing up to eight excavators and bulldozers at the CEOG site daily, accompanied by more than 50 gendarmes and private security guards. On the other side, the Kali'na resistance comprises 10 to 20 warriors, a dwindling number.
Since work began in 2022, 20 people have been arrested and detained, including both warriors and non-locals providing support, with the latest being a minor on 23 September 2023. A 20-year-old Kali'na warrior from Atopo W+p+ recounts: "I feel stressed and persecuted: drones fly over the village at night to keep an eye on us. We found hidden cameras on the site. We were chased by gendarmes with dogs. Some of them camouflage themselves in the forest to catch us; some gendarmes even pointed their weapons at us".
The French government is allocating significant resources to ensure the successful completion of CEOG. "They have tear-gas grenades, stun grenades, dismantling grenades, but also LBDs (blast ball riot guns)", enumerates Melissa, Yopoto Sjabere's niece. She remembers the words of CEOG's site manager: "Even if some of you have to die, CEOG will go ahead". To protect themselves, Atopo W+p+'s warriors retaliate using stones, sticks and slingshots. More recently, they have started making Molotov cocktails in response to police brutality.
"Is the plant reason enough to threaten young people with pump-action shotguns or to persecute and traumatise an entire village, including children?", Melissa inquires with anger. At least three minors became ill and required hospitalisation due to the tear gas fired by gendarmes, resulting in prolonged headaches and respiratory issues. "The doctor advised them to file a complaint, but we know it wouldn't succeed because the state would support the gendarmes", comments the 20-year-old Kali'na warrior.
Trees are marked with paint, indicating that they will soon be cut down. Photo: Pierre Auzerau
Project relocation request rejected
In early September, Yopoto Sjabere sought to protect his village from further violence by proposing a deal to Antoine Poussier, Guiana's préfet (state's representative). Knowing that the village's right to FPIC had been breached and that the state had disregarded several of the inhabitants' land rights (UNDRIP, Article 2 b, Article 26, among others), Roland Sjabere proposed to the state that the rest of the project be moved eastwards instead of northwards, as originally planned. This step forward was taken to protect the heart of Atopo W+p+'s territory. The southern section of CEOG, which has already been devoured by excavators, is bounded to the north by a stream that crosses Atopo W+p+'s lands. Protecting this natural boundary had a dual purpose and explains the Yopoto's resignation: not only is this creek an ekupi dipo, a place for bathing, but to the north of it are gathering and hunting areas crucial for Atopo W+p+'s inhabitants to maintain their traditional way of life.
The request was refused on the evening of 17 September, causing dismay among Atopo W+p+'s residents. After a brief hiatus, during which work was temporarily halted as the préfet was reviewing the Yopoto's request, CEOG's clearing operations recommenced with greater intensity near the village. Workers are now on site seven days a week, under heavy guard, determined to make up for more than a year's delay caused by the Kali'na.
"We are very sad. We're already seeing a lot of pollution in the creek, which we swim in and drink from when we're out in the forest", observes Melissa. The young woman completing her civic service with the village association is also worried about the decline in animal and plant life: "Many animals have already disappeared from our land. They have fled north to escape the construction work and the tear gas. The jaguar that used to live on these lands is already gone. Birds, lizards, agoutis, armadillos and coatis have died because of the work. Plants we use for medicinal purposes are also disappearing".
Atopo W+p+'s young Kali'na warriors are worried about their future. While the French state should ensure that they are "free from any kind of discrimination" (UNDRIP, Article 2), several have had their applications for professional training submitted to the Saint-Laurent-du-Maroni town hall rejected because they "come from Prospérité". The village association faced a similar situation when trying to secure state funding. It is in situations like this that the forest becomes even more important, as it is "what feeds and heals the people of Atopo W+p+", explains Melissa. This is what has kept her going over the years and will continue to do so until the end: "I can only thank this forest. It gave me strength. When I'm in the forest, I talk to it, I tell it that I'm not going to hurt it and that I'm there to protect it".
Pierre Auzerau is a doctoral researcher in the Departments of Anthropology and Indigenous Studies at the University of Helsinki, Finland. Through inclusive research, his current project examines and documents Indigenous Peoples' quest for legal recognition in "French" Guiana, focusing on their experience and use of the law(s). Inspired by Indigenous perspectives and theories, his work endeavours to adopt practices and methods that challenge colonial and racial power relations in research.
Mélissa Sjabere is a Kali'na Indigenous from Atopo W+p+ village, also known as Prospérité. She enjoys taking photos and videos and spending time with friends in the forest. She is open-minded and often discusses her future ambitions.
Cover photo: A 20-year-old Kali'na warrior observes the CEOG site, where he has been coming daily for the past four years, to protect Atopo W+p+'s territory. Photo: Pierre Auzerau
Tags: Indigenous Debates