The national organizations assembled in the Unity Pact of Indigenous Organizations of Peru convened a meeting to present their vision, proposals and agenda on climate change, put together by the indigenous peoples, as well as their mobilization and advocacy strategy gearing towards the COP 20.
While facing the coming COP 20, Peru must rectify the extractive model that exacerbates the global climate crisis.

The Unity Pact of National Indigenous Organizations of Peru called today on President Ollanta Humala not to enact the Bill 3627/2013-PE approved yesterday by the Standing Committee of Congress (Comisión Permanente del Congreso).
The UN Special Rapporteur on the rights of Indigenous Peoples, James Anaya, acknowledged the cooperation of the Peruvian Government and the information provided with respect to laws, policies and programs on indigenous issues. He also highlighted the collaboration of the United Nations Development Programme that enabled his visit and also expressed his gratitude to the indigenous peoples for invited him to their territories, for their hospitality and for sharing their stories, concerns and aspirations.
They call for all of those committed to a better future to participate in the upcoming Peoples Climate Summit to be held in Lima, parallel to the official COP20.
A National Conference of Women for Climate Justice in Defense of Mother Earth signed a statement to raise struggle proposals at national and global levels.
Unity Pact of Indigenous Organisations of Peru, an organisation that articulates national indigenous organisations, criticized the omission of key issues in the national agenda on climate change developed by the Peruvian government.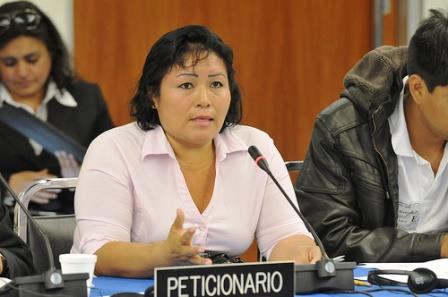 On Friday November 1, indigenous organizations reported the situation of isolated peoples in Peru to the Inter American Commission on Human Rights (IACHR) in Washington DC and denounced the Peruvian State is not applying norms for special protection of isolated peoples. Fasabi Daysi Zapata, Vice President of the Association for the Development of the Peruvian Rainforest (AIDESEP), said there are about eight vulnerable indigenous communities in the Territorial Reserve Kugapakori, Nahua, Nanti and others (RTKNN) and that the State did not apply a special protection regime for these populations.